Ghost writing a blog post for another member is supported as of version 11.0 of Verint Community. The feature allows a member to create a blog post on behalf of another member.
Who can author a blog post for another member?
Each blog has a defined set of members who are listed as authors. Those authors, as well as any user with Modify Blog permissions may write a post for another author in that blog. When editing a blog post, the same members may also change the author of a blog post.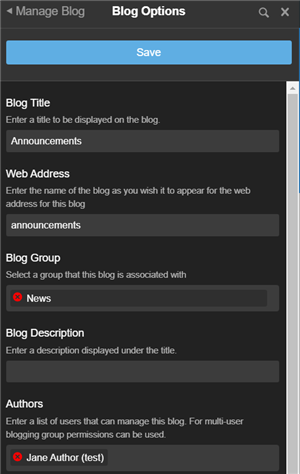 Who can have a blog post ghost written for them?
Any member who is listed as an author in a blog may have a blog post written for them.
Where do I set the author of a blog post?
If you have permission and there are authors available to select, an option will be available to set the author of the blog post. That option can be found on the Options tab when creating or editing a post.

How can I find out if a post was ghost authored and who authored the post?
In the Contextual Panel for the Blog, under Manage Blog > Posts, the author or the blog post and the ghost author will be displayed.