An article collection is like a research website in the context of one group. The article collection can contain nearly countless articles.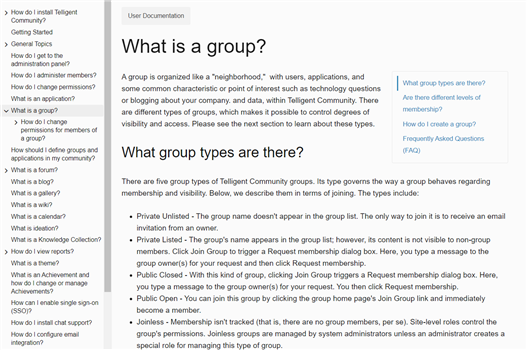 How is an article collection different from other applications?
A blog's authors are appointed in the blog creation screen under "Authors." A forum is crowd-sourced (like a wiki); however there is no "I have this question too" function in the wiki. A gallery is composed of files, which may be uploaded or downloaded. Wikis allow inserting / drag & drop image upload to an article, but don't allow downloads. Article collections have categories for navigation of article, publish groups to allow publishing multiple articles simultaneously. Like wikis, articles have a history, however, with articles you can have drafts that can be edited multiple times without creating new versions until the draft is published.
Like wikis, an article collection can be composed of articles written by community members and become reference material for the community.
Article collections have a helpfulness rating system.
Like wikis, an article collections have a version tracking system that lets you revert to a previous version or compare two versions.
How do I create an Article Collection?
Please refer to the What is an application? article for instructions.
A quick overview of our new Article Collection Application.