Hi Team,
Is there any bug with live chat widget as on v12 & v11 its not showing online friends. How do I install chat support?
I am able to directly search friends and message them but they are not shown on my online friends list.
Screenshot 1: No Online Friends Seen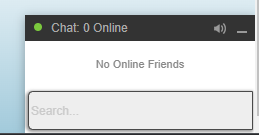 Screenshot 2: Friends are visible if I search for them with their online status
I want my friends to be visible on the list directly without me searching for them. Is there anything to enable or fix to get it working?
Thanks,