Article categories are used to organize articles within an article collection. An article can belong to multiple categories and a category can have custom sorting of articles within the category. By default articles are sorted by name within a category.
Categories can have a default article which renders when viewing the category. The article that is specified as the default article of the category, does not need to be assigned to the category.
Create a Category
To create a category navigate to the article collection the category will be created in, click the Manage icon > Manage Article Collection > Categories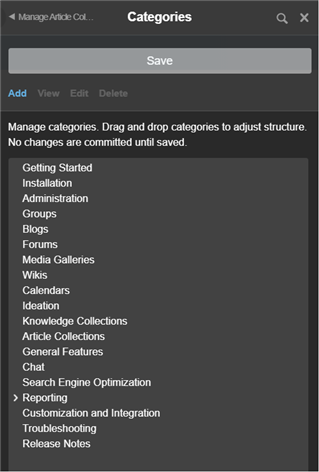 Choose 'Add':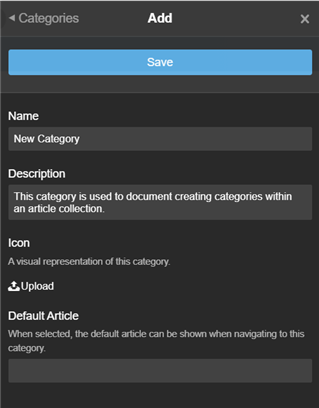 Enter the name of the category. You can optionally add a description of the category as well as an icon image to represent the category. If you wish to specify a default article to render when viewing the category and you have already create the article, you can specify it here. When finished click the 'Save'.
Your new category will now show within the list of categories along with any other categories you may have also created. These categories can be sorted here by dragging them around. You must click the 'Save' button here for the new category to be created and to save its order within the list of other categories.