The General Data Protection Regulation (GDPR) takes effect in May 2018, matching fragmented data protection laws across the EU, expanding individuals' rights and increasing privacy obligations. With fines of up to €20 million or 4% of global revenue for non-compliance (whichever is greater) – now is the time for action. Verint's Community enables you to balance GDPR compliance with the continued collection of customer data to execute your customer community strategy.
We have taken steps to enable our product to aid you in your GDPR compliance. You can review our release notes of what is included here: Version 10.1, Version 9.2.
In addition, below are Verint GDPR Fact Sheets (UK and US versions) for your reference and review.
GDPR US Fact Sheet: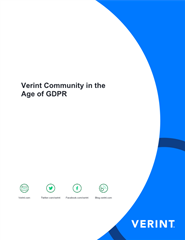 PDF
GDPR UK Fact Sheet: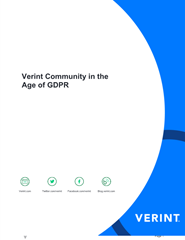 PDF
We have also posted the below document pertaining to the most frequently asked questions regarding Telligent Community and GDPR.
If you have any further questions, please contact your Customer Success Manager and we'll work with you to address and answer your questions!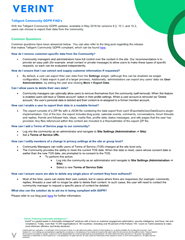 PDF