Certain circumstances might require merging two separate member accounts. This should only be done if it's the same member who created another account by mistake, or because they were no longer able to access their previous account. Merging two member accounts merges all of their content including profile data, conversation messages, bookmarks, likes, ratings, etc... When member profile data is merged, it will only merge if one of the values is not set. If both members have a bio, the destination member account's bio is kept.
Merging Two Members
In this example, we have Kelly who lost access to her original email account and was unable to login to the community. She created a new account and needs the account merged. To merge the account click the pencil icon, then Administration > Membership. Search for the account that needs to be deleted.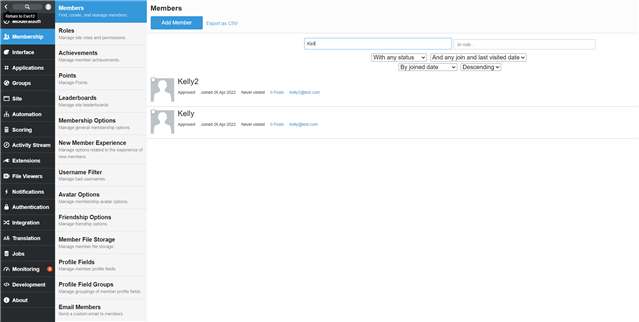 Select the account that should be deleted, all of the content will be merged into the account you select in the next step. Once you've clicked on the account, click the Merge into link.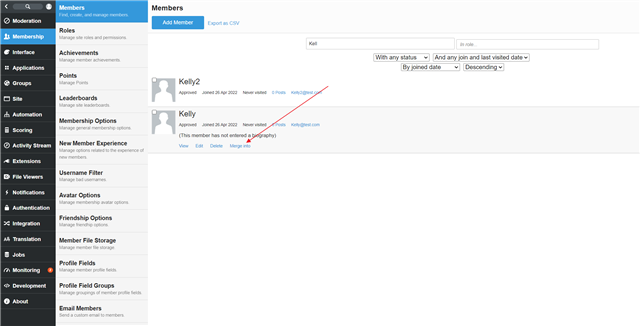 This link will take you to a new page where you can choose the destination member account. Enter the username of the account you wish to merge into and select the user. Then click the Merge button. Then confirm.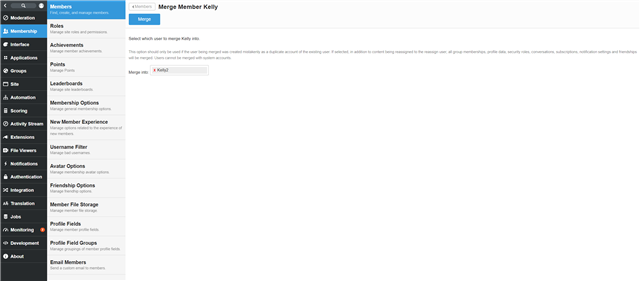 It may take some time for the merge to occur depending on how much content the old account had. Once completed, the old account should be deleted and the new account should have the previous account content associated with it.