Social Marketing in an Online Community
Two key channels for social marketing include social networks and your website. Today, brands are using these two critical digital channels much more to increase their brand footprint.
More than likely, you are already doing some of the following: interacting with customers on Facebook and Twitter, sharing resources on LinkedIn and SlideShare, pinning content on Pinterest or posting on Instagram.
Creating compelling social media strategies is an ongoing creative and analytical process. Given the growth of social media, its impact and reach can help – or hinder – a company's ability to achieve its business goals.
Social + online is not just a trend. Adoption rates among younger demographics trend high. Why should you care? Because the hot social media sites of the minute and the way we interact are evolving over time, but social networking sites are not going away. These trends point to the strong adoption of going online to interact with peers rather than to simply consume content. These trends also reflect the growing importance of social engagement via mobile devices, which is how people currently access their online social networks. Brands are taking note and adapting their online strategies to accommodate screens that people use to engage their peers, find reviews, receive support, or surf the Web.
People are adding or sharing photos, videos, and other content with peers. In addition to consuming content, more than half of all adult Internet users are in some way actively sharing content with their social networks. In response, brands need to take note of what types of content resonate with their customers in social networks.
A Social Community is an online hub where people with shared interests can communicate, get support, build relationships and be recognized using accepted social applications. An online community moves past a one-dimensional social network like Facebook or Twitter, and into the territory of a fully-featured Social Platform. An online 'community' is not your Twitter following or Facebook likes. By community, we mean an owned or on-Domain property where you connect customers/users to support and/or content, and employees connect with other employees. The community can be part of your entire web presence.
Communities contain a mix of social applications that help customers share information and resources, discuss their interests, participate in contests and get recognition for contributing. These applications are all bundled together for in-depth engagement:
Groups

Profiles

Blogs

Wikis

Forums

Status Updates

Media Galleries

(for pictures, videos, files)

Activity Streams

Tags

# Hashtags

@ Mentions

Likes

Bookmarks

Comments

Ratings

Polls

Calendars

Badges

Chat

Private Messages
These tools are intuitive and familiar if you use social networks like Twitter or Facebook or LinkedIn, to name a few. A community pulls these applications together into one place. In your community, you own and manage the branding, the data and the engagement. In short, you own the customer experience in a way not possible with social networks.
BRANDS APPROACH SOCIAL MARKETING COMMUNITIES IN DIFFERENT WAYS.
For example, some companies integrate a community with the website as a microsite. Team Titleist is a good example. Golfers come to discuss and share all things golf with Titleist and fellow golfers in its community, which is integrated with its main website.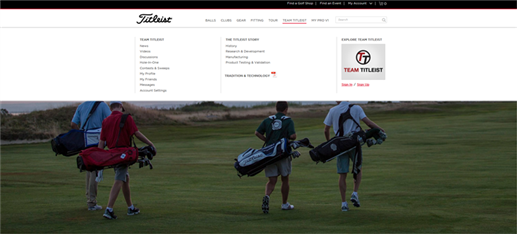 Social marketing communities help brands increase sales, enhance customer experience, increase awareness and spread positive word of mouth. Social interaction is what makes an online community different from a traditional website. If you would like more information or would like to learn how a community can help your organization, please contact me at:
Chris Capo
Sales Director, Social Communities
chris.capo@verint.com o: +1 (469) 403-2452 | m: +1 (214) 223-9868
"Everything you need to create incredible social communities"