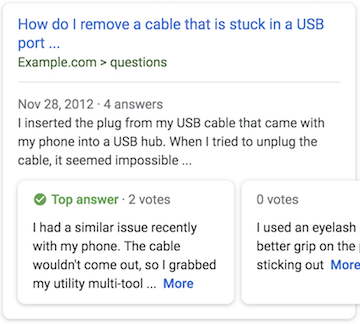 What is QAPage?
Structured data is a set of data formats defined by Google to enable an improved display of search results for certain types of data. QAPage is the format defined for Question and Answer pages. A page that has proper QAPage markup will have a rich result displayed clearly outlining the questions and answer(s).
What are some limits of QAPage?
QA Page data is only rendered for Question and Answer threads. Discussion threads will not render the markup.
Only one acceptedAnswer is allowed in the markup. If a thread has more than one verified answer, the answer with the most votes will be used. Additional verified answers and suggested answers are included in suggestedAnswers section of the markup.
To see a rich search result in Google a question is required to have at least one acceptedAnswer or suggestedAnswer. For questions that have no answers defined, the QAPage markup will still be rendered, but Google will not display a rich result until answers have been added to the question.