This automation will send an email to a configured email address or Role with a list of Forum Thread URLs that are unanswered in the Community after x number of hours.
Download for version 11:
<automations>
	<automations>
		<automation name="Unaswered Threads Notifications" version="11.1.8.16788" description="This sends an email with a list of thread urls that have not been answered after x number of hours." id="f624be8c283d479096e806444e857bb4" executeAsServiceUser="true" isSingleton="false" trigger="Job" schedule="5m" lastModified="2022-01-13 20:50:46Z">
			<executionScript language="JavaScript"><![CDATA[var pageIndex = 0;
var done = false;
var unanswered = [];

var hours = core_v2_widget.GetStringValue('hours', '18');
var subject = core_v2_widget.GetStringValue('subject', core_v2_language.GetResource('Subject_Default'));
var fromEmail = core_v2_widget.GetStringValue('fromEmail', 'notset@local.com');
var toEmails = core_v2_widget.GetStringValue('toEmails', '');
var toRoleIds = core_v2_widget.GetStringValue('toRoleIds', '');
var group = core_v2_widget.GetStringValue('forumGroup', '');

//core_v2_eventLog.Write("UnansweredThread: Group: " + group, { Category: "Unanswered Threads", EventId: 18789, EventType: "Warning" });

if(group.substring(6) !== "1"){
    // Get Threads
    while(!done){
        var threads = core_v2_forumThread.List(
            { 
                ForumThreadQueryType: 'Unanswered',
                IncludeSubGroups: true,
                IncludeDiscussions: false,
                PageIndex: pageIndex, 
                PageSize: 100, 
                SortBy: 'Date', 
                SortOrder: 'Descending',
                GroupId: core_v2_utility.ParseInt(group.substring(6))
            });
          
        for(var t = 0; t < threads.Count; t++){
            var hoursDiff = (Math.round(((new Date()) - threads[t].Date) / (60*60*1000))).toString();
    
            if(hoursDiff > hours){
                unanswered.push(threads[t].Url);
            }
        }
        
//        core_v2_eventLog.Write("UnansweredThread: Threads: " + unanswered.length, { Category: "Unanswered Threads", EventId: 18789, EventType: "Warning" });
        
        
        if(threads.TotalCount <= 100 * (pageIndex + 1)){
            done = true;
        }
          
        pageIndex++;
    }
    
    var hourText = '';
    
    if(hours > 1){
        hourText = core_v2_language.GetResource('Hours_Text');
    }
    else{
        hourText = core_v2_language.GetResource('Hour_Text');
    }
    
    var body = '<b>Unanswered Threads after ' + hourText + '</b><br/>';
    for(var u = 0; u < unanswered.length; u++){
        body += '<a href="' + unanswered[u] + '">' + unanswered[u] + '</a><br/>';
    }
    
//    core_v2_eventLog.Write("UnansweredThread: RoleIds: " + toRoleIds, { Category: "Unanswered Threads", EventId: 18789, EventType: "Warning" });
    
    // Get emails to send to
    var splitEmails = toEmails.split(',');
    var splitRoles = toRoleIds.split('&');
    var allEmails = [];
    
//    core_v2_eventLog.Write("UnansweredThread: SplitRoles Count: " + splitRoles.length, { Category: "Unanswered Threads", EventId: 18789, EventType: "Warning" });
    
    for(var i = 0; i < splitRoles.length; i++){
        var roleUsersDone = false;
        var roleUsersPageIndex = 0;
        var roleIdSub = splitRoles[i].substring(5);
        
        core_v2_eventLog.Write("UnansweredThread: RoleIdSub: " + roleIdSub, { Category: "Unanswered Threads", EventId: 18789, EventType: "Warning" });
        
        var roleId = core_v2_utility.ParseInt(roleIdSub);
        var role = core_v2_role.Get(roleId);
        
        core_v2_eventLog.Write("UnansweredThread: RoleId: " + roleId, { Category: "Unanswered Threads", EventId: 18789, EventType: "Warning" });
        core_v2_eventLog.Write("UnansweredThread: RoleName: " + role.Name, { Category: "Unanswered Threads", EventId: 18789, EventType: "Warning" });
        
        if(role.Name === "Everyone" || role.Name === "Registered Users"){
            core_v2_eventLog.Write("UnansweredThread: This role is not allowed: " + role.Name, { Category: "Unanswered Threads", EventId: 18789, EventType: "Warning" });
        }
        else{
            while(!roleUsersDone){
                var roleUsers = core_v2_user.List(
                    { 
                        PageIndex: roleUsersPageIndex, 
                        PageSize: 100, 
                        RoleId: roleId 
                    }
                ); 
                
                if(roleUsers.Count > 0){
                    for(var r = 0; r < roleUsers.Count; r++){
                        allEmails.push(roleUsers[r].PrivateEmail);
                    }
                }
                
                if(roleUsers.TotalCount <= 100 * (roleUsersPageIndex + 1)){
                    roleUsersDone = true;
                }
                
                roleUsersPageIndex++;
            }   
        }
    }
    
    if(splitEmails.length > 0){
        for(var e = 0; e < splitEmails.length; e++){
            allEmails.push(splitEmails[e]);
        }   
    }
    
    if(allEmails.length > 0 && unanswered.length > 0){
        for(var te = 0; te < allEmails.length; te++){
            core_v2_eventLog.Write("RoleUserEmailSent: " + allEmails[te], { Category: "Unanswered Threads", EventId: 18789, EventType: "Warning" });
            core_v2_email.Send(subject, body, { FromEmail: fromEmail, ToEmail: allEmails[te] });    
        }
    }
}
else{
    core_v2_eventLog.Write("UnansweredThread: Configured Group set to the site root, automation stopping.", { Category: "Unanswered Threads", EventId: 18789, EventType: "Warning" });
}]]></executionScript>
			<configuration><![CDATA[<propertyGroup id="options" labelResourceName="Options">
    <property id="hours" labelResourceName="Hours_Label" descriptionResourceName="Hours_Desc">
        <propertyRule name="minmax" min="0" />
    </property>
    <property id="subject" labelResourceName="Subject_Label" descriptionResourceName="Subject_Desc"></property>
    <property id="fromEmail" labelResourceName="FromEmail_Label" descriptionResourceName="FromEmail_Desc"></property>
    <property id="toEmails" labelResourceName="ToEmail_Label" descriptionResourceName="ToEmail_Desc"></property>
    <property id="toRoleIds" labelResourceName="ToRoles_Label" descriptionResourceName="ToRoles_Desc" dataType="Custom" template="core_v2_roleLookup" enableCurrent="false" maxSelections="10" />
    <property id="forumGroup" labelResourceName="ForumGroup_Label" descriptionResourceName="ForumGroup_Desc" defaultValue="Group=-1" dataType="Custom" template="core_v2_groupLookup" enableCurrent="false" />
</propertyGroup>]]></configuration>
			<languageResources><![CDATA[<language key="en-us">
  <resource name="ForumGroup_Desc">Select a group to restrict the unanswered threads to.</resource>
  <resource name="ForumGroup_Label">Select a Group</resource>
  <resource name="FromEmail_Desc">The default is notset@local.com</resource>
  <resource name="FromEmail_Label">From Email Address</resource>
  <resource name="Hour_Text">Hour</resource>
  <resource name="Hours_Desc">If a thread is unanswered after the defined number of hours an email will be sent.</resource>
  <resource name="Hours_Label">Hours</resource>
  <resource name="Hours_Text">Hours</resource>
  <resource name="Subject_Default">Unanswered Threads</resource>
  <resource name="Subject_Desc">Email subject for the unanswered threads email</resource>
  <resource name="Subject_Label">Email Subject</resource>
  <resource name="ToEmail_Desc">Enter a single email or multiple emails, multiple emails should be comma delimited(test@email.com,test2@email.com)</resource>
  <resource name="ToEmail_Label">To Email</resource>
  <resource name="ToRoles_Desc">Enter a single role or multiple roles, multiple roles should be comma delimited(adminstrators,Users)</resource>
  <resource name="ToRoles_Label">To Roles</resource>
</language>]]></languageResources>
		</automation>
	</automations>
	<configuredAutomations>
		<configuredAutomation version="11.1.8.16788" id="3df8ffefb21f4400ae5c1fd0df971658" automationId="f624be8c283d479096e806444e857bb4" name="Unanswered Threads" description="" enabled="false" lastModified="2022-01-13 20:52:57Z">
			<properties>
				<property id="hours" dataType="String">
					<value>2</value>
				</property>
				<property id="subject" dataType="String">
					<value>Unanswered Questions are Waiting for Your Review</value>
				</property>
				<property id="fromEmail" dataType="String">
					<value />
				</property>
				<property id="toEmails" dataType="String">
					<value />
				</property>
				<property id="toRoleIds" dataType="Custom">
					<value>Role=4&amp;Role=9</value>
				</property>
				<property id="forumGroup" dataType="Custom">
					<value>Group=2</value>
				</property>
			</properties>
		</configuredAutomation>
	</configuredAutomations>
</automations>
Download for version 12:
<automations>
	<automations>
		<automation name="Unanswered Threads Notifications" version="12.0.2.17146" description="This automation sends an email with a list of Forum Thread URLs that have not been answered after x number of hours." id="f624be8c283d479096e806444e857bb4" executeAsServiceUser="true" isSingleton="false" trigger="Job" schedule="00:01 Sunday, Monday, Tuesday, Wednesday, Thursday, Friday, Saturday" lastModified="2021-12-14 19:59:01Z">
			<executionScript language="JavaScript"><![CDATA[var pageIndex = 0;
var done = false;
var unanswered = [];

var hours = core_v2_widget.GetStringValue('hours', '18');
var subject = core_v2_widget.GetStringValue('subject', core_v2_language.GetResource('Subject_Default'));
var fromEmail = core_v2_widget.GetStringValue('fromEmail', 'notset@local.com');
var toEmails = core_v2_widget.GetStringValue('toEmails', '');
var toRoleIds = core_v2_widget.GetStringValue('toRoleIds', '');
var group = core_v2_widget.GetStringValue('forumGroup', '');

core_v2_eventLog.Write("Group: " + group, { Category: "Unanswered Threads", EventId: 123675, EventType: "Warning" });

// Get Threads
while(!done){
    var threads = core_v2_forumThread.List(
        { 
            ForumThreadQueryType: 'Unanswered',
            IncludeSubGroups: true,
            IncludeDiscussions: false,
            PageIndex: pageIndex, 
            PageSize: 100, 
            SortBy: 'Date', 
            SortOrder: 'Descending',
            GroupId: core_v2_utility.ParseInt(group)
        });
    
    core_v2_eventLog.Write("ThreadCount: " + threads.Count, { Category: "Unanswered Threads", EventId: 123675, EventType: "Warning" });
      
    for(var t = 0; t < threads.Count; t++)
    {
        var hoursDiff = (Math.round(((new Date()) - threads[t].Date) / (60*60*1000))).toString();

        if(hoursDiff > hours)
        {
            unanswered.push(threads[t].Url);
        }
    }
    
    
    if(threads.TotalCount <= 100 * (pageIndex + 1))
    {
        done = true;
    }
      
    pageIndex++;
}

var hourText = '';

if(hours > 1)
{
    hourText = core_v2_language.GetResource('Hours_Text');
}
else
{
    hourText = core_v2_language.GetResource('Hour_Text');
}



var body = '<b>' + core_v2_language.GetResource('EmailBodyIntroText') + ' ' + hours + ' ' + hourText + ':</b>';
for(var u = 0; u < unanswered.length; u++)
{
    body += '<p><a href="' + unanswered[u] + '">' + unanswered[u] + '</a></p>';
}

// Get emails to send to
var splitEmails = toEmails.split(',');
var splitRoleIds = toRoleIds.split(',');
var allEmails = [];

for(var i = 0; i < splitRoleIds.length; i++)
{
    core_v2_eventLog.Write("Role Users Found: ", { Category: "Unanswered Threads", EventId: 18789, EventType: "Warning" });
    var roleUsersDone = false;
    var roleUsersPageIndex = 0;
    var roleId = core_v2_utility.ParseInt(splitRoleIds[i]);
    while(!roleUsersDone)
    {
        var roleUsers = core_v2_user.List(
            { 
                PageIndex: roleUsersPageIndex, 
                PageSize: 100, 
                RoleId: roleId 
            }
        ); 
        
        if(roleUsers.Count > 0)
        {
            core_v2_eventLog.Write("Role greater than 0: ", { Category: "Unanswered Threads", EventId: 187489, EventType: "Warning" });
            for(var r = 0; r < roleUsers.Count; r++)
            {
                core_v2_eventLog.Write("RoleUserEmail: " + roleUsers[r].PrivateEmail, { Category: "Unanswered Threads", EventId: 18789, EventType: "Warning" });
                allEmails.push(roleUsers[r].PrivateEmail);
            }
        }
        
        if(roleUsers.TotalCount <= 100 * (roleUsersPageIndex + 1))
        {
            roleUsersDone = true;
        }
        
        roleUsersPageIndex++;
    }
}

for(var e = 0; e < splitEmails.length; e++)
{
    allEmails.push(splitEmails[e]);
}

if(allEmails.length > 0 && unanswered.length > 0)
{
    for(var te = 0; te < allEmails.length; te++)
    {
        core_v2_email.Send(subject, body, { FromEmail: fromEmail, ToEmail: allEmails[te] });    
    }
}]]></executionScript>
			<configuration><![CDATA[<propertyGroup id="options" labelResourceName="Options">
    <property id="hours" labelResourceName="Hours_Label" descriptionResourceName="Hours_Desc">
        <propertyRule name="minmax" min="0" />
    </property>
    <property id="subject" labelResourceName="Subject_Label" descriptionResourceName="Subject_Desc"></property>
    <property id="fromEmail" labelResourceName="FromEmail_Label" descriptionResourceName="FromEmail_Desc"></property>
    <property id="toEmails" labelResourceName="ToEmail_Label" descriptionResourceName="ToEmail_Desc"></property>
    <property id="toRoleIds" labelResourceName="ToRoles_Label" descriptionResourceName="ToRoles_Desc" dataType="Custom" template="core_v2_roleLookup" enableCurrent="false" maxSelections="10" format="csv" />
    <property id="forumGroup" labelResourceName="ForumGroup_Label" descriptionResourceName="ForumGroup_Desc" defaultValue="Group=-1" dataType="Custom" template="core_v2_groupLookup" enableCurrent="false" format="csv" />
</propertyGroup>]]></configuration>
			<languageResources><![CDATA[<language key="en-us">
  <resource name="EmailBodyIntroText">Unanswered Threads after</resource>
  <resource name="ForumGroup_Desc">Select a Group to restrict the unanswered Threads to.  The automation will only look at Threads in this Group.</resource>
  <resource name="ForumGroup_Label">Select a Group</resource>
  <resource name="FromEmail_Desc">The default is notset@local.com</resource>
  <resource name="FromEmail_Label">From Email Address</resource>
  <resource name="Hour_Text">Hour</resource>
  <resource name="Hours_Desc">If a Thread is unanswered after the defined number of hours an email will be sent.</resource>
  <resource name="Hours_Label">Hours</resource>
  <resource name="Hours_Text">Hours</resource>
  <resource name="Subject_Default">Unanswered Threads</resource>
  <resource name="Subject_Desc">Email subject for the unanswered Threads email</resource>
  <resource name="Subject_Label">Email Subject</resource>
  <resource name="ToEmail_Desc">Enter a single email or multiple emails, multiple emails should be comma delimited (test@email.com,test2@email.com).</resource>
  <resource name="ToEmail_Label">To Email</resource>
  <resource name="ToRoles_Desc">Enter a single role or multiple roles, multiple roles should be comma delimited (adminstrators,Users).</resource>
  <resource name="ToRoles_Label">To Roles</resource>
</language>]]></languageResources>
		</automation>
	</automations>
	<configuredAutomations>
		<configuredAutomation version="12.0.2.17146" id="a55006fd54d94a86807fceb76e87e2db" automationId="f624be8c283d479096e806444e857bb4" name="Unanswered Threads" description="" enabled="false" lastModified="2021-12-14 19:58:25Z">
			<properties>
				<property id="hours" dataType="String">
					<value>48</value>
				</property>
				<property id="subject" dataType="String">
					<value>There are Unanswered Forum Threads in your Community</value>
				</property>
				<property id="fromEmail" dataType="String">
					<value>notset@community.com</value>
				</property>
				<property id="toEmails" dataType="String">
					<value />
				</property>
				<property id="toRoleIds" dataType="Custom">
					<value />
				</property>
				<property id="forumGroup" dataType="Custom">
					<value />
				</property>
			</properties>
		</configuredAutomation>
	</configuredAutomations>
</automations>
Installation Instructions
To import this automation please follow the documentation listed here: https://community.telligent.com/community/11/w/user-documentation/62977/how-do-i-configure-automations-for-my-community
You will then click on "Automations" above the Automation Studio tab and click "Add"
For the "Type of Automation" drop down, select "Unanswered Threads Notification Email"
Configure the automation as shown below, enable it, and click save!
Configuration Options
Schedule

How often the automation should run. The default is set to once per day, Monday through Friday, at 8:00am.

Hours

The number of hours a Forum Thread has been unanswered before it is included in the email report. The default is 24 hours.

Email Subject

The subject of the email.

From Email Address

The email address that the email notification will come from.

To Email

Either a single email address or comma separated list of email addresses that the email will be sent to.

To Roles

You can scope this automation to send an email notification to all users in a specific role.

Select a Group

You can scope the automation to only look for unanswered Threads in a specific Group.
Automation Configuration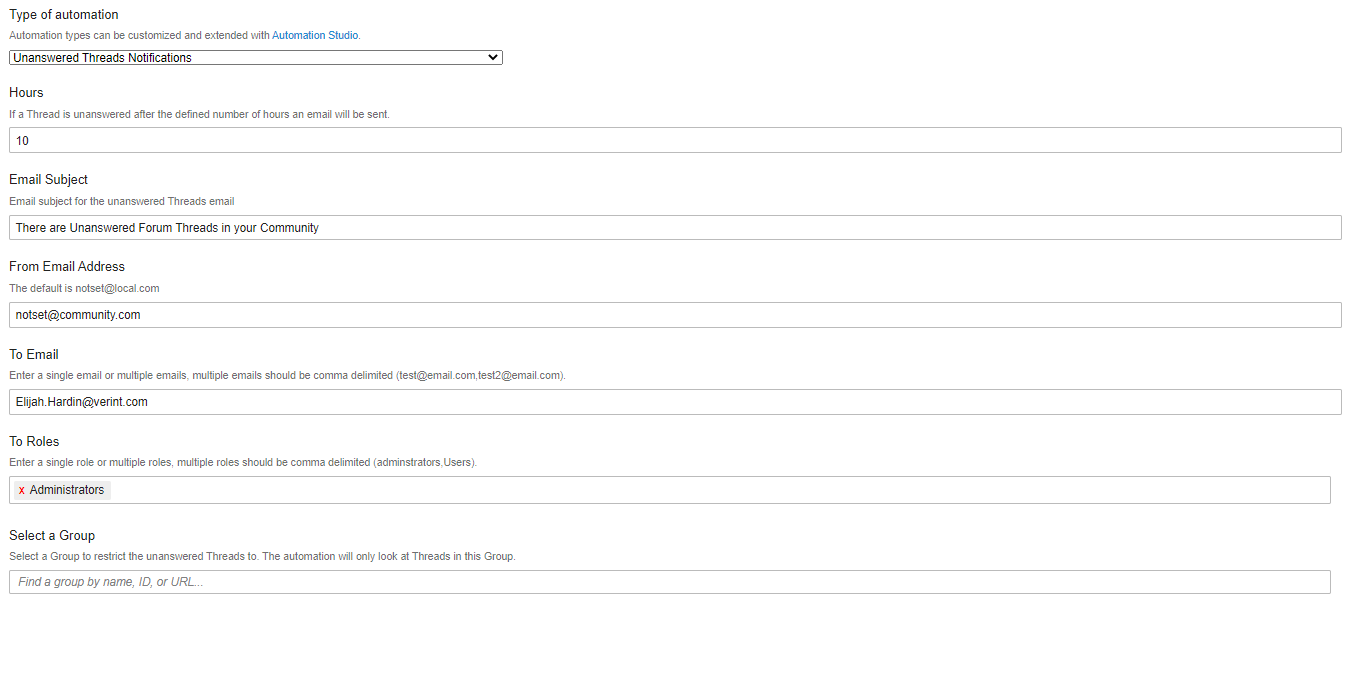 Automation Studio Configuration