Improve community engagement, increase customer loyalty, and lower churn — all with the Network Activator Community Management Toolkit.


(Product 1)
Engagement & Personalization Automation
THE PROBLEM
You started an online community, but you are struggling with getting conversations started.
Or perhaps you are getting plenty of questions but not enough experts responding. What to do?

THE SOLUTION
Network Activator's automation tools empower community leaders to foster engagement with just a few clicks. Use the tool to automatically prompt the right group of experts whenever a question has not been answered within 24 hours. Or use the tool to create a simple, crisp, group newsletter to drive engagement.

HOW IT WORKS
The toolkit can personalize and automate every stage of engagement- from community creation, to growth, to ongoing management. Choose the default message templates and workflows, or configure your own. Then set it and forget it (Network Activator will run the workflows automatically).
Plans start at $150/month
Contact help@networkactivator.com for a demonstration
(Product 2)
Customer Success Plugin (BETA)
Looking to increase customer retention and lower your churn rate? The Customer Success Toolkit leverages your online community's data and connects that data to your CRM to give you a 360 degree view of your customers' experiences.
THE PROBLEM:
Your customer success and sales teams want to know which accounts are at risk and which accounts would be receptive to upsell/cross sell. But you are lacking the signals that highlight which accounts to focus on.
THE SOLUTION:
Network Activator's Customer Success plugin pinpoints your customers' successes, and pain points based on their behavior in your online community. The tool links community interactions with your CRM data so you get the full picture of your customers' experiences. Then the tool's AI-driven dashboards, analysis and recommendations highlight those accounts that are at risk of churning, and what offers might help them to remain a customer.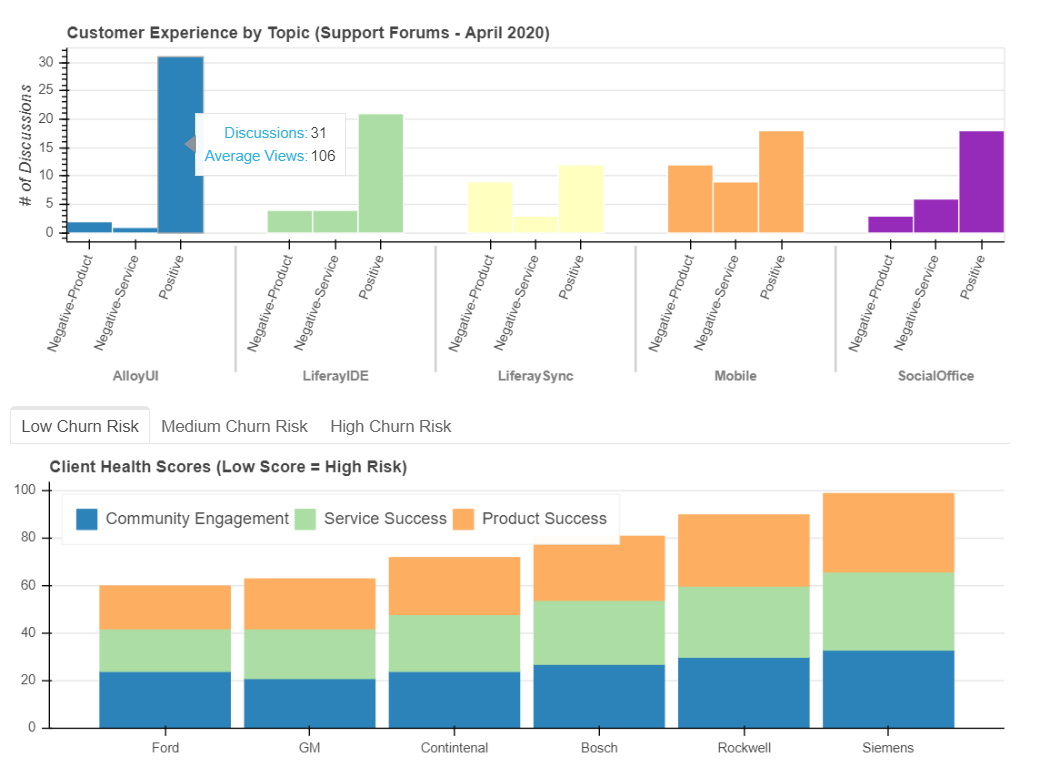 CLIENT HEALTH SCORE COMPONENTS

Community Engagement: Aggregation of activity levels of all contacts from the account, weighted in consideration of the overall account size
Service Success: Based on the responses to questions asked by this customer (are the responses prompt and satisfactory?)
Product Success: Based on the type of questions asked and content viewed (is the client using the product and advancing along proven journeys to success?)
HOW IT WORKS
Using your community reports and the Network Activator browser plugin, Network Activator analyzes the content on your Verint Community and the community members' interaction with that content to create scores for service and product experience. The application then creates calls to actions, which you can define. These community insights and recommendations can feed into your into existing customer success software, or it can pull in CRM data to be your company-wide customer success software.
Plans start at $250/month
Contact help@networkactivator.com for a demonstration