This plugin will allow you to require users to know an "access code" before they are able to access the site. This use-case for this plugin is when you're getting ready to launch your site or you're upgrading your site and need to perform QA testing before making it live.
A screen shot of what unauthenticated end user's will see is below: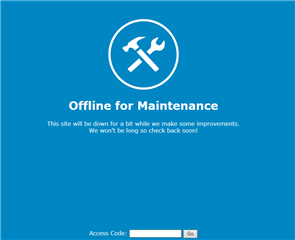 You have full control over the page and the content on the page. It is an .htm page that is deployed to the root of the Community.
In addition, there are configuration options that will allow you to do the following:
Set the access code to whatever code you want
Allow or Disallow REST requests to be allowed while the Access Code is enabled
Add a Custom Message to the page
Whitelist pages that aren't blocked by the Access Code plugin
A screen shot of the plugin configuration is below: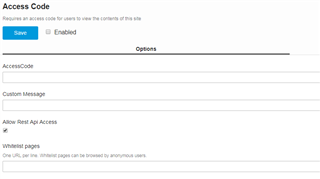 Installation Instructions:
Place the AccessCode.aspx in the root of your Verint Community web folder
Place the Telligent.Services.AccessCode.dll into the bin folder of your Verint Community web folder and the Job Scheduler
Enable the plugin via the Administration area.