Found a great post in the community that needs to be seen by your friends or network on other social channels? Easily share the post by clicking on the social icons right next to the post or underneath the post details.
This widget will add social icons on any page the widget is added to. This will allow community managers to give their users the option to directly share community posts to other social channels by one click on a button. Channels enabled by default:
Facebook
X (Twitter)
LinkedIn
WhatsApp
Example of the widget underneath the blog post details: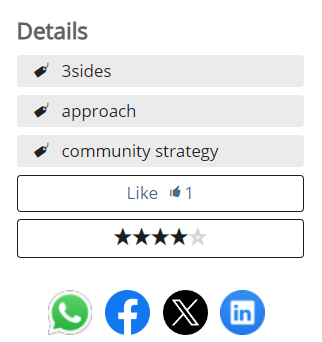 How the solution works
After easily importing the widget, saving it and drag and dropping it to the page, the widget will become available to the users.
By clicking on one of the icons the post link and preview will be shared to the user's social feed.
Before posting, the user can add a description to the post.
It's a nice way to promote sharing of your community (posts) to external sources which may result in more traction and higher number of visitors.
Note: Functionality works best with Open communities. If you're working in a gated community, post preview and details will not be shown after posting on socials.
---
Interested? Or want more information about our Social Sharing Widget? E-mail us at team@3sides.co or get in touch via our website.